After months of preparation the wedding finally arrives. You say "I Do" to your beautiful and wonderful wife and take off into the adventures of married life.
As I wrote that first paragraph above, I started to question the word 'preparation'.
The word preparation typically means the coordination of wedding events, clothing, food and so on. It includes all of the stress to make sure everything goes as perfect as possible. It is your wedding day after all.
But what about preparation in terms of how to lead your wife after the big day? How are you going to handle communication issues? How will you figure out how to deal with old relationships of the opposite sex? How will you lead your wife spiritually? I struggled with these areas and want to share some of my story.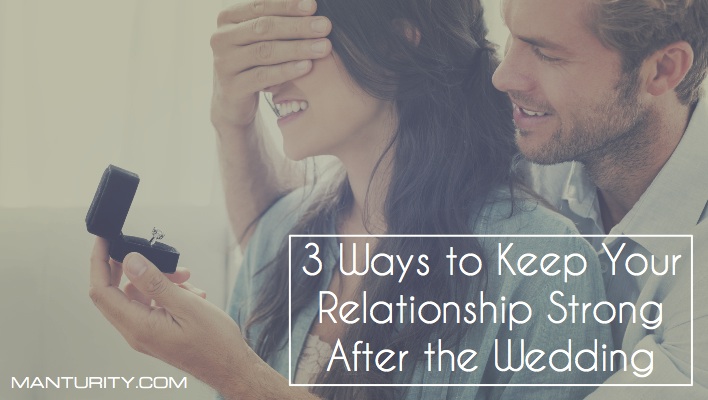 Do you remember your first job? The excitement, but also the nervous feeling deep within your stomach? Do you recall not knowing how to do anything or not knowing anyone? This is kind of like the beginning of marriage. Schooling might of helped prepare you for that first job, but you still don't know what to expect and you still have a lot to learn. It's all part of the process right?
If that's the case, why wouldn't we understand marriage to be a process? A time of new beginnings, but also a time of adjusting to new surroundings and people (your wife). You've watched relationships over the years, most likely including your parents or a couple very close to you. You've seen relationships and how they interact on television and movies. How hard could it be?
Well, depending on your approach and leadership, it could be very hard or fairly easy.
For myself, it was hard. Surprisingly hard. I use the word surprisingly because I honestly thought getting married and moving in with my girlfriend of 7 years would be easy. It was what we had wanted for years! We were trying to finish college and plan for our wedding. We attended a few sessions of marriage counseling, but I honestly thought I had it all figured out, so I really didn't pay attention too hard. This goes back to that learning and growing in your new or first job, but I had no idea the same principles applied to marriage.
The wedding takes place and it's wonderful. The honeymoon takes place and our relationship is roaring with intense love and desire. A year goes by and we started to experience some issues. Another year goes by and we started to drift further apart. As we approach the third year, we are fighting often and are unhappy. We couldn't communicate among ourselves, we couldn't come to tell other people about our issues and God was far from our priorities. We had no idea what we were doing and our relationship was fading fast.
As most couples do these days during hard times, we considered divorce.
As we went through that hard time though, I really started to think about marriage and our potential divorce. I had loved this woman for years and now I want to be separated from her? We had done everything to keep our marriage strong, right? We were prepared to get married, right? Well, we found out we were wrong. Way wrong, and we started to make repairs.
Since we didn't properly prepare for marriage before we got married, here are some changes we made and some ideas for you to consider. If you fall into the same category of not really knowing what marriage is or didn't properly prepare either, I suggest you consider the following.
Jesus at the Center Personally
If you're preparing for marriage, just recently got married or are in troubled times and need an answer, then you need to review your heart thoroughly. You need to honestly ask yourself if Jesus is at the center of your life personally. Do you spend time with God alone? Do you work to improve your walk with Christ daily?
It is essential to have Jesus at the center of your personal life before you invite your wife into your life.
Jesus at the Center of Your Marriage
Once Jesus is firmly planted at the center of your personal lives, He can then easily be centered in your marriage. Among all of the chaos in your marriage and lives, Jesus needs to always be a top priority. As the husband, you can be an effective leader by making sure this happens and is maintained. If Sunday is coming, you should be making the call to attend Church or a class at Church. If there is a need or not, you should be pursuing a time of prayer with your wife. Don't sit back and wait for her, take the lead and do it now!
It is essential to have Jesus at the center of your marriage in order for it to grow and thrive physically, emotionally and spiritually.
Yearly Training
Before I was married and for a couple years afterwards, I would have never thought of attending a marriage class or conference. I probably would of have thought the idea was crazy. But again, going back to your first or new job, what is the one thing you had to keep engaging in? Training! Training is key to learning a new job and all of it's tasks and it's also essential for maintaining a great marriage. Every young couple needs to wake up, get humble and get trained. Conferences and classes have made huge differences in our marriage. We now have a rule that we attend at least one marriage training event every year.
It is essential to have continued training in your marriage in order to maintain it and allow it to grow.
I could go on and add more items such as communication, sex and intimacy. But I am interested in hearing your thoughts on effective leadership in your marriage.
What kind of training did you receive before marriage and how did it help or not help you?
What advice would you add to this list for newly married couples?
– See more here.